The German-American Heritage Foundation of the USA®
German-American Heritage Museum of the USA™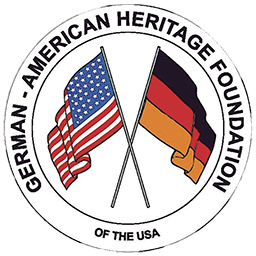 The German-American Heritage Museum of the USA™ opened in March, 2010 in a building once known as Hockemeyer Hall. Renovations were completed by the GAHF after acquiring the building in 2008. Located on 6th Street NW in the heart of the old European-American section of Washington, the Museum sits in what is now a thriving commercial neighborhood.
Follow us
Immigrants' Lives: Highlights from the Krebs Family Collection
In the 1880s, all four Krebs sons–Paul, Richard, Hermann, and Albin–immigrated to the United States at various times. Their lives took very different paths: Paul became an upholsterer in Philadelphia, Richard and Hermann managed wineries in California, and Albin joined the US Army. They are a small but varied example of the trajectories immigrants' lives took upon arriving in the United States.
Several items from the Krebs family collection are currently displayed at the GAHM. We hope that you will enjoy these photographs from the Krebs family collection, and that they provide some backstory to the artifacts on display.
Dr. Gregor Constantin Wittig, c. 1866

The patriarch of the Wittig family was born on Oct. 31, 1834. His first marriage, to Augusta Fantini Usinianski, took place in the Free Church in 1857, but was not recognized until they were married in a civil ceremony in 1858.
Their daughter Elsbeth married Paul Krebs in 1882

Augusta Wittig, 1857

Augusta Wittig is shown around the time of her first (unofficial) wedding to Gregor Wittig. This was his first marriage but her second–she had been previously widowed.

Paul & Elsbeth Krebs, 1884

Paul Krebs married Elsbeth Constanze Beate Wittig in September of 1882. This photograph was taken in the summer of 1884, soon after the death of their week-old son Paul in March.

Hermann & Anna Krebs, Vienna 1884

Hermann Krebs married his first wife, Anna, in 1878. They had three children (two of which died in infancy) and immigrated to the California, where Anna died in 1889.

Ferdinand Richard Krebs

Like his brother Hermann, Richard Krebs immigrated to California. This photo was taken by V. Wolfenstein in Los Angeles, California, likely prior to Richard's marriage to Margarethe Hattemer in 1884.

Richard & Margarethe Krebs, 1888

Richard Krebs and Margarethe Hattemer were married in February of 1884, in Anaheim, California. This photo was taken four years later, in Los Angeles.

Hermann & Refugia Krebs, c. 1893

Hermann married Refugia Mattie Siva around 1891. They are shown with his daughter from his first marriage, Anna (age 6), and their daughter Hermine (age 2).

Albin Krebs, c. 1899

Albin Krebs (standing, second from right) was the most well-traveled of the Krebs brothers. He joined the US Army Corps of Engineers, and traveled widely, judging by the number of postcards he sent to his family (many of which are in GAHM's collection). He never married, and died in El Paso, Texas, in 1931, of a subdiaphragmatic abscess.

Gregor & Marie Wittig

Gregor Wittig and Marie Augusta Siebert were married in 1876, a year and a half after his first wife's death. They had four children together, one of whom–Gretel–married Paul Krebs' son Richard.

Mountain View Winery, 1905

From 1885 onwards, Richard Krebs managed various wineries in California. In 1905, he moved to Azusa, Calif., where he started a winery of his own.

Family photo, 1906

This photo was taken in the backyard, likely in the summer of 1906.
Back row, left to right: Helen, Carry, Gretel Wittig (who married Paul's son Richard later that year), Mr. Barlo, Helen Krebs
Front row, left to right: Louise Schum, Mrs. Kochler, Mr. Kochler, Alex Wittig, Paul Krebs (with Clara on his lap), Mrs. Barlo, Elsbeth Krebs

Family Photo, 1906

This photo would likely have been taken around the time of Gretel Wittig's marriage Paul Krebs' son Richard, in 1906.
Left to right: Margarethe (Gretel) Wittig Krebs, Richard Krebs Jr., Paul Krebs, Helen Krebs, Elsbeth Wittig Krebs, Carrie Krebs, Clara Krebs, Rudolph Krebs

Paul & Elsbeth Krebs, June 1923

Paul and Elsbeth eventually left Philadelphia and retired to a farm in Ottsville, Pennsylvania, where they lived for the rest of their lives. This photo was likely taken around the time of their fortieth anniversary.

Golden Wedding, 1933

Paul and Elsbeth Krebs celebrated their fiftieth wedding anniversary at their farm in Ottsville, Penn. The china set they received for the occasion is in GAHM's collection.

Paul Krebs & Dogs, 1942
Information:
---
Museum Hours:
Tuesdays – Fridays
from 11 am – 5 pm
For information, tickets, or groups contact the German-American Heritage Foundation at info@gahmusa.org or (202) 467-5000.
Location:
719 6th St. NW, Washington, DC 20001