Online Genealogical Seminar with Dirk Weissleder: Your Family Name – A Vehicle Through History
Saturday, Dec. 4, 2021, 2-3 PM EST
"A name is nothing small" once wrote none other than the great German poet and scholar Johann Wolfgang v. Goethe. And he was right.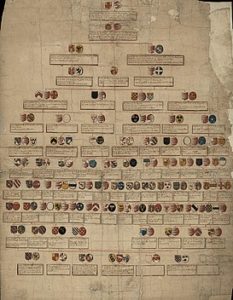 One of the problems people face today is that the meaning and historical background of names are often unknown. In a country of immigrants, such as the United States where people from diverse cultural and linguistic backgrounds have come together, names present an even bigger challenge. This lecture will be an introduction to German-American genealogy, and will give you helpful, example-based research tips and sources that will allow you to trace your family name(s) through time. Before you start digging deeper into genealogical research, you need an understanding of the historical development, function, and meaning of German surnames. While names may seem easy at first glance, each case can present unique challenges depending on family lines and region of origin. Without a name, an individual cannot be identified.
The German-American Heritage Foundation is partnering with expert genealogist Dirk Weissleder, the chairman of the national umbrella  organization of German Genealogical and Heraldic Societies (DAGV), and 2nd Vice-President  of the International German Genealogy Partnership (IGGP), to introduce you to the exciting world of family history research with a special focus on German-American heritage.
On Oct. 20, Mr. Weissleder was awarded with the Dr.  Walburga von Habsburg Douglas Prize 2020 at the opening ceremony of the 34th International Congress for Genealogical and Heraldic Sciences in Madrid, Spain "for his important work in favour of the knowledge  of the German genealogy and family history in the world".
Dirk Weissleder has been active in genealogical research since 1982, having taken his first steps as a teenager, and has lectured extensively on German genealogy and the German diaspora. He is also the General Secretary of the International Confederation for Genealogy and Heraldry and an appointed member of the International Academy for Genealogy. You will be able to ask questions following the presentation.
This event will be held via Zoom. You will receive the link and login information upon registration. 
Cost: $30 for GAHF Members; $35 for Members of the General Public