Karlsruhe Concert Duo to Perform in DC's United Church on April 13
GAHF invites you to participate in a special concert with two accomplished musicians, Reinhard Armleder & Dagmar Hartmann, from Karlsruhe, Germany on Thursday, April 13, 2023 at 6:30 pm.
Armleder and Hartmann will play a selection of works by Ludwig van Beethoven, Felix Mendelssohn Bartholdy, Frédéric Chopin, and the 20th century Argentine composer and inventor of nuevo tango Astor Piazzolla. Enjoy a fantastic musical fusion that brings together the great masters of the 19th century with Piazzolla's modern tango creations that blend traditional tango tunes with classical elements and jazz.
"It is rare to find a duo with such a fortunate and intense combination of a kindred musicality, affinity and interaction with their instruments."
Thursday, April 13, 2023 at 6:30 PM
Die Vereinigte Kirche/The United Church
1920 G Street NW
Washington, DC 20006
Tickets: $25 per person & $15 for students with ID
BUY NOW
The German-American Heritage Foundation is partnering with the Vereinigte Kirche/United Church in Washington, DC to accommodate a larger audience and to provide you with a wonderful acoustic experience worthy of the compositions and the artists' talents.
About the Musicians
The ensemble was founded in 1999 by cellist Reinhard Armleder and pianist Dagmar Hartmann, and has been very successful and in demand in Germany and abroad. They have won several international competitions in Italy and France, and have been described as having the rare gift of captivating and inspiring their audience. A sound and music experience that touches the soul. They are regularly and highly praised for fascinating the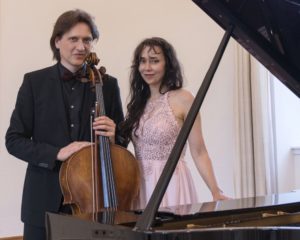 public with the depth of their interpretations, brilliant technique, and an imaginative program selection.
Their repertoire concentrates on classical-romantic literature and 20th-century music, which makes their concerts accessible to people who are just beginning to explore classical music. They are particularly interested in the rediscovery of lesser known composers and works, but they also dedicate themselves time and again to the music of the modern age, and bring works dedicated to the present to their world premieres. 
The artists studied at Karlsruhe, Trossingen, and Berlin University of Music and received inspiration in master classes by Lynn Harrell, Steven Isserlis, Janos Starker, Casadesus, Bruno Canino, Leonard Hokanson, and the "Beaux-Arts"-Trio.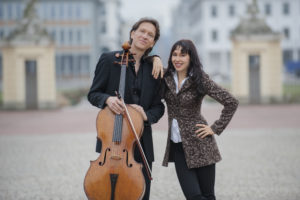 They have received numerous prizes  at  various  international  competitions  such  as  the  Lorenzo  Perosi  Competition in Biella (1999), in Moncalieri (1999), and at the Racconigi Competition (2001). In France,  the  Karlsruher  Konzert‐Duo  won  the  Concours  Pierre  Lantier  in  Paris  (2000)  and  the  U.A.F.M.  competition in Chaville (2003). Their success in these competitions brought the two musicians a great  deal of attention and opened up engagements on national and international podiums, setting the stage  for concerts worldwide.
Today their concert calendar includes regular tours throughout Europe, as well as North, Central and South America, the Middle East, Asia and countries in southern Africa. 
In the past years the duo has performed in 75 countries on all continents and has enjoyed  success at prestigious stages and concert series like, Schubert Society London/Great Britain, Verbier-Festival/Switzerland, Festival de Musique aux Château de Bourglinster/Luxembourg, Festival Art November Moscow/Russia, International Bach Festival Kaliningrad/Russia, Haifa Music Festivals/Israel, Rovinj International Music Festival /Croatia, Barenboim-Said-Foundation Ramallah/Palestine, Festival Friends of Jordan/Amman, International Music Festiva "Kharkiv Assemblee", Bir Miftuh International Music Festival/Malta, Johannesburg International Mozart Festival/South Africa, Braşov Music Festival/Romania, Alem Saz International Music Festival Astana/Kasachstan or Concert series Palais Ennejma Ezzahra Tunis/Tunisia.                                                               

The Duo has recorded in various radio and television productions as well as several CDs under the Fiori Classics label.
In addition to their teaching activities at the University for Music Karlsruhe and the Karlsruhe Conservatory, both artists are regular guest lecturers of masterclasses in Switzerland, South Africa, Panama, and Kazakhstan.