Description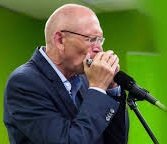 Friday, November 16, 6 pm – 8 pm 

Cost: $20 for nonmembers; $16 for members
Have you ever wondered about the connection between one of Germany's famous instruments, the harmonica, and Southern Blues?
Travel the surprising trail of this humble instrument and African-American Blues culture on Friday, Nov. 16 at 6 pm at the GAHM. German Consul General Herbert Quelle will be visiting us from Chicago where he directs the Consulate to talk about a little known piece of musical history, which he discussed in his book "Monika's Blues: On the Trail of the German Harmonica and African‑American Blues". Visitors are in for a special treat, as Mr. Quelle, who is a passionate and talented musician, will also perform some musical samples.
Signed copies of his book will be available for purchase for $20 each.
For a special book review clip and an audio of "Herbie's Improv", please click here: https://www.dw.com/en/monikas-blues/av-38797447
Kindly RSVP to info@gahmusa.org or (202) 467-5000 by noon on November 14th.
Location: German-American Heritage Museum, 719 6th Street NW, Washington, DC 20001