Lecture with Documentary Filmmaker Paul Glenshaw, May 24 at 6:30 PM
Join us for a free lecture at the GAHM with art expert Paul Glenshaw to learn about the famous painting Washington Crossing the Delaware German American artist Emanuel Gottlieb Leutze.
As we prepare for America's 250th birthday in 2026 and GAHF's 50th anniversary, we will kick off the countdown with a look at the fascinating history of the famous painting that depicts General Washington crossing the frozen Delaware River the night of Dec. 25-26, 1776.
Have you ever found yourself staring at a famous work of art, not knowing why it's important or the story it tells? Art+History with Paul Glenshaw will be a fresh, exhilarating new series—part travel show, part documentary—that brings great art to life. With an artist's insight, historian's accuracy, and storyteller's passion, Paul takes us across the globe where great works were made, revealing the stories they tell at the places they actually happened. Go back in time to discover how the real-life journeys of artists and their subjects intersect to create masterpieces. Art+History with Paul Glenshaw erases the distance between our time and the past, unlocking the epic human stories of joy, triumph, loss, and tragedy waiting for us in great works of art.
Meet Paul and learn about his work and one of the masterpieces of 19th century American art at the GAHM on
Wednesday, May 24 from 6:30 – 8 PM
German-American Heritage Museum
719 6th Street NW
Washington, DC 20001
Register Now
Donations allow us to continue our programming, and are always gladly accepted.
The event will be recorded.
The artist Emanuel Leutze (1816-1868) from Schwäbisch-Gmünd, Kingdom of Württemberg, came to the United States as a a child in 1825, and eventually returned to Germany to attend the prestigious Kunstakademie Düsseldorf.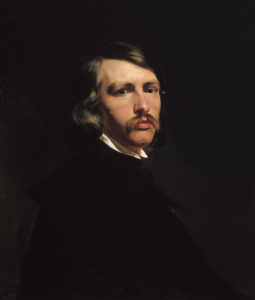 As a passionate supporter of democracy, he conceived the idea for his famous painting during the German Revolution of 1848, and hoped that it would encourage and inspire liberal reforms. Leutze finished his first painting in Düsseldorf in 1850, and immediately began work on a second version which was introduced to an enthusiastic crowd in New York City in 1851. This version is now located at the Metropolitan Museum of Art in NYC. Another copy was in the White House from 1979-2014, and was eventually sold by Christie's in May 2022 for $45 million. Another Leutze masterpiece Westward Ho! can be admired in the Capitol Building; Congress had commissioned Leutze in 1860 to decorate a stairway with a mural depicting the country's expansion. Leutze died in Washington, DC in 1868, and his grave can be found at the city's Glenwood Cemetery.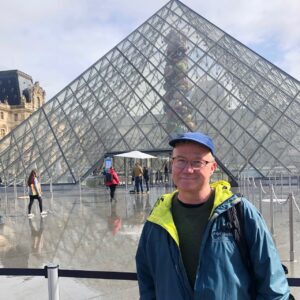 Paul's career covers several disciplines, all fueling the same goal: storytelling. He is developing his popular online presentations Art+History for public television and is in production of the documentary Jazz in Paris. His film The Lafayette Escadrille has been broadcast nationwide since 2021. He has written for publications ranging from Racquet magazine to Air & Space Smithsonian and the Folger Library's Shakespeare and Beyond blog. A practicing artist, he teaches drawing for the Smithsonian Associates, and making studies of 18th century microscopes at the National Museum of Health and Medicine. He began his career at the National Gallery of Art, selling postcards in the bookstore.
You can see his work on Instagram @paulglenshaw.