Since 1987, the Distinguished German-American of the Year™ Award has provided national recognition for outstanding leadership and achievement of an American of German-speaking ancestry in business, the arts, education, science, politics, and society. 

The award format is an annual black tie dinner held in different locations, including the elegant Cosmos Club on Massachusetts Avenue, the National Press Club, the U.S. Chamber of Commerce, and the grand ballroom of the Organization of American States on the corner of 17th Street and Constitution Avenue, NW. 
Our original 2020, now 2022, candidate is former California Gov. Jerry Brown who has prepared a brief video greeting to share his pride in his German ancestry, and his excitement about having been selected.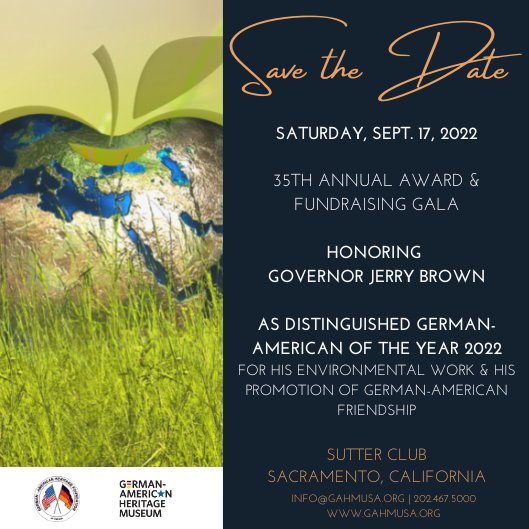 Due to the COVID-19 pandemic, which continues to hold us in its grip, we have postponed the annual autumn gala to the autumn of 2022.
Please save the date for Saturday, Sept. 17, 2022 in Sacramento, Calif. 
The health and safety of our valued guests and members is our foremost concern, and we will provide you with updates and additional information as soon as possible. However, we can already share with you that the location will be Sacramento, Calif., and we look forward to welcoming you there.
Please click here to learn about previous award recipients.