For Immediate Release
Contact:
Katja Sipple
Mail: sipple@gahmusa.org
Phone: 202.467.5000
German-American Heritage Museum of the USA™
The German-American Heritage Museum of the USA™ opened in March, 2010 in a building once known as Hockemeyer Hall. Renovations were completed by the GAHF after acquiring the building in 2008. Located on 6th Street NW in the heart of the old European-American section of Washington, the Museum sits in what is now a thriving commercial neighborhood.
Follow us
Aerospace Engineer and SpaceX Founding Father Dr. Hans-Jörg Königsmann Honored as Distinguished German American of the Year in Washington, DC
Washington, D.C., Oct. 16, 2023 — An elegant black tie gala in one of Washington, D.C.'s most beautiful historic venues, the Willard Hotel on Pennsylvania Avenue, is virtually guaranteed to be a success. An illustrious crowd, including Germany's new Ambassador to the United States His Excellency Andreas Michaelis, NASA's Director of the Commercial Space Division Phil McAlister, space industry representatives, friends, and of course the honoree accompanied by his family had gathered in this beautiful venue on Saturday, Oct. 7 for the 36th Annual Award and Fundraising Gala to celebrate a modern day rocket man, Dr. Hans Königsmann, as the 2023 Distinguished German-American of the Year. The Willard Hotel's elegantly appointed Grand Ballroom's foyer and adjacent Buchanan Room provided the perfect backdrop for a formal, yet relaxed cocktail reception. As guests mixed and mingled, sipping mixed drinks, wine and beer, they had a chance to browse the silent auction which included everything from gift baskets filled with German delicacies, hotel vouchers for Steigenberger and Intercontinental Hotels & Resorts, tickets for Salute to Vienna concerts in different cities, and a stunning luxury cruise package for two on the Danube, Moselle or Rhine rivers offered by AmaWaterways.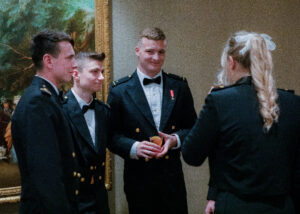 It was a perfect occasion to meet up with old friends and to make new acquaintances. A group of midshipmen from the United States Naval Academy's German Club, whose attendance was made possible by a generous gift from GAHF Board member Christiane Schmidt, proved to be particularly popular, and we hope to welcome a USNA delegation again next year. 
Dr. Königsmann, a native of Berlin, not only brought his wife and daughter, but also reconnected with former colleagues with whom he relieved the early days of SpaceX when the company was a struggling startup that was creating a stir in the aerospace world which had been dominated by established companies.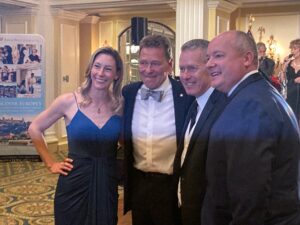 The opening ceremony included welcoming remarks by gala chairwoman and executive director Katja Sipple who paid tribute to Dr. Königsmann's leading role in getting American astronauts back into space in American-made rockets. Where others saw an ambitious vision by a newcomer that was likely to fail, Königsmann saw an opportunity to take the path less traveled, a path that through strength, perseverance, and a good dose of ingenuity ultimately led to SpaceX becoming a global power player and an official NASA partner. Dr. Königsmann's visionary work not only led to the development of the Falcon rocket, the most reliable and safest rocket in existence, but also to the creation of the StarLink satellite system that provides coverage to more than 60 countries.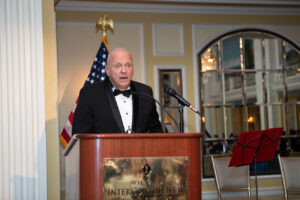 After dinner, Ambassador Michaelis officially opened the award ceremony, which began with a short tribute and a minute of silence as a gesture of respect for Israel. The Ambassador lauded Königsmann as a fine example of the ongoing German influence in the United States today, highlighting  the importance of German American relations today and tomorrow; a relationship that is built on the exchange of people and ideas. He praised the engineer's pioneering spirit, and portrayed him as a brilliant scientist who moved to the U.S. to pursue his dream of space exploration. Ambassador Michaelis was followed by NASA's Director of Commercial Space Division Phil McAlister whose humorous anecdote about SpaceX's "Mini-Skirt-Day" involving the discovery of a crack in the rocket's nozzle skirt the day before a test flight emphasized Königsmann's role in bridging the cultural gap between NASA and SpaceX. "Hans's steady hand got us through that particular challenge; SpaceX trimmed off about six inches of the nozzle skirt, and it worked! That day became known as Mini-Skirt-Day," McAlister said. Königsmann received the 2014 NASA Distinguished Public Service Medal, NASA's highest civilian award, for his work. 
Speakers Eric Berger, whose book Liftoff: Elon Musk and the Desperate Early Days that Launched SpaceX chronicles the company's evolution, and Caryn Schenewerk, Königsmann's former SpaceX colleague and long-time friend rounded out the picture of a man who combines incredibly technical expertise, leadership qualities, a great sense of humor, and personal humility. "I could argue […] that Hans is the most interesting man in the world. Beyond building and launching rockets and sending people into space, he built the plane he flies, […]and makes a delicious pepperoni […] but that doesn't quite capture what makes Hans truly excellent: it doesn't honor the incredibly kind and generous spirit Hans and Rita bring to everything they do," Schenewerk said in her moving tribute.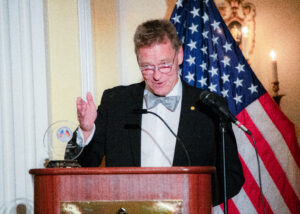 Finally, Christiane Schmidt presented Dr. Königsmann the Distinguished German American of the Year Award pointing to a long list of recipients who were leaders in business, culture, and the sciences whilst also focusing on GAHF's role in facilitating exactly the type of exchange of ideas and people that makes the German American, and indeed European American, relationship so valuable.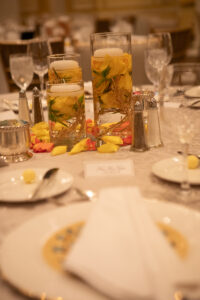 As GAHF nears its 50th anniversary in 2026/2027, we want to rethink how we can shape and enhance the future whilst honoring our joint heritage that has provided such fertile ground for a long and fruitful friendship. Dr. Königsmann graciously accepted the award and expressed his gratitude for being honored. He thanked his wife Rita Hachmann for being a constant source of encouragement and inspiration, and expressed interest in returning to the nation's capital for future GAHF galas. With the official part of the evening now concluded, guests continued to enjoy conversation, drinks, and dancing to the lively tunes performed by the Night & Day Band who kept the dance floor full.
A heartfelt thank you goes to the many individuals who worked so tirelessly to bring this gala from the drawing board into the ballroom.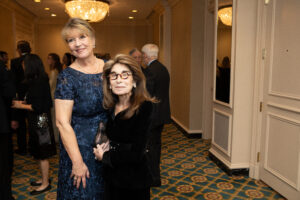 Last but not least, GAHF thanks its many donors and supporters who made this event a tremendous success:  AmaWaterways, Gary Lee Koerner, Christiane Schmidt, Laurel and Williams "Bill" Martin, William Holly, Frederick Hansen, Waltraud Prechter, Guntwin Galleisky, Norman Keller, Helmut Krueger, Mynaric, Susan and Ulrich Pelz, Daniel Villanueva, Deutsche Hospitality (Steigenberger), Salute to Vienna, Petra Schürmann, and IHG Hotels and Resorts. Please be assured of our gratitude! We look forward to seeing you again next year!